Details

September 15 - 17, 2022
ACIT HSC Hospitality Tent at the Pasadena Rodeo BBQ Cookoff
Pasadena Convention Center Fairgrounds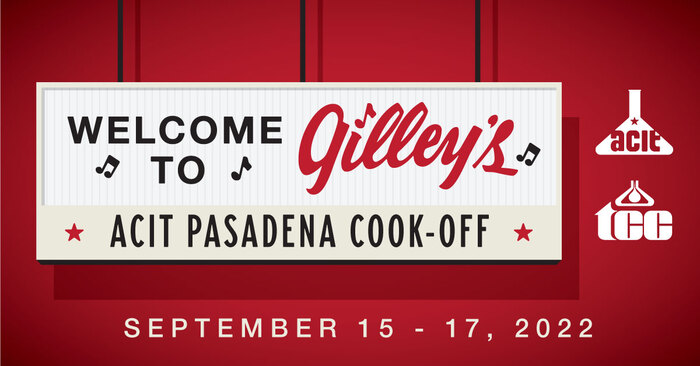 ACIT Pasadena Rodeo Hospitality Tent
Pasadena Livestock Show & Rodeo BBQ Cook-Off!
September 15 - 17, 2022
Presenting Sponsor

SPONSOR NOW TO GET YOUR WRISTBANDS!!!

-WE WILL BE OFFERING WILL CALL AT THE TENT TO MAKE IT EASY-
Location
Pasadena Convention Center
7601 Red Bluff Road
Pasadena, TX 77507
We will be located on the Midway in Booths 74-77
Award Winning BBQ and Catering provided by Base Camp Cookers!!
We are looking for Sponsors!!!

Why do you want to Sponsor this event??
For the AMAZING TCC networking opportunities, direct marketing reach to YOUR target audience,
and access to the "Best Tent" at the Rodeo!!
TCC Plant Managers will receive wristbands to our ACIT Pasadena Rodeo Hospitality Tent for our
Exclusive Thursday VIP and Sponsor Night (invitation only for TCC members and ACIT Sponsors).
They will also receive wristbands for Friday & Saturday to share with their leadership teams and staff.
(See listing below of all the TCC companies invited to the ACIT Hospitality Tent)
Sponsorship Opportunities
Click on the link below for full details and benefits of each sponsorship
*Presenting Sponsor ($10,000) - VIP Passes to Mayor's Rodeo Suite, Speaking opportunity at VIP Reception,
30 VIP Passes for Thursday, 75 Passes for both Friday & Saturday, and much more!
*Platinum Sponsor ($5,000) - Speaking opportunity during Friday or Saturday dinner, 15 VIP Passes for Thursday,
50 Passes for both Friday & Saturday, and much more!
*Gold Sponsor ($3,500) - Opportunity for featured article in TCC/ACIT Newsletter, 10 VIP Passes for Thursday,
30 Passes for both Friday and Saturday, and much more!
*Silver Sponsor ($2,500) - VIP Invitation to 2023 TCC Summer Board Retreat Dinner, 6 VIP Passes for Thursday,
20 Passes for both Friday and Saturday, and much more!
*Bronze Sponsor ($1,000) - 3 VIP Passes for Thursday, 12 Passes for both Friday and Saturday, and much more!
*Friends of ACIT ($500) - 1 VIP Pass for Thursday, 4 Passes for both Friday and Saturday, and much more!
Thank You To Our Amazing Sponsors!
Presenting Sponsor




Chevron
Platinum Sponsors


BIC Alliance
Coastal Ice & Water
San Jacinto College
Total Tent Solutions
Gold Sponsors


Alliance Technical Group
Hunter Buildings
PSC Group
Turner Industries
Silver Sponsors


BMWC Constructors
INEOS
Ohmstede Industrial Services
Space City Services
TIMEC
Tolunay-Wong Engineers
USA DeBusk
Bronze Sponsors


3V Industrial
Alltec Lifting Systems
American Road Transportation
Bohler Engineering
C2C Technical Services
Civil & Environmental Consultants
Comfort Suites La Porte
CORE Occupational Medicine
Diamondback Works
ENTRUST Solutions Group
Enterprise Commercial Paving
Gallant Industrial
Great Western Valve
Health and Safety Council
PK Companies
Puffer-Sweiven
Rain for Rent
Sage Enviro Tech
Standard Constructors
Texas Molecular
Vecta Environmental Services
Friends of ACIT Sponsor


BearCom
Firetrol Protection Systems
Fortress Protective Buildings
Mirage Industrial Group
Steel Painters
Tax Advisors Group
Schedule of Hospitality Tent

September 15th - 6:00 - 11:00pm VIP and Sponsor Appreciation Evening
Sponsors enjoy networking with TCC Plant Managers & Company Representatives
Followed by live entertainment and serving award-winning fajitas

September 16th - Cook-Off Hospitality
5:00pm - 12:00am

September 17th - Cook-Off Hospitality
5:00pm - 12:00am

Enjoy award-winning BBQ, beverages, live entertainment
& networking each night!
Get Your Sponsor
ships and Wristbands Today!
TCC Members that are invited to join us at the Hospitality Tent include the following companies:
Air Liquide, Albemarle, Arkema, Ascend Performance Materials, Ashland,
BASF, BP, Braskem America, Celanese, Chemours, Chevron Phillips, Covestro,
Dixie Chemical, Dow, DuPont, Eastman, ECO Services Operations,
Enterprise Products, Ethyl, ExxonMobil, Flint Hills Resources, GB Biosciences,
Goodyear Chemical, Indorama, INEOS, INVISTA, Kaneka, Kuraray, Linde,
Lubrizol, LyondellBasell Industries, Marathon Petroleum, MEGlobal Americas,
Noltex, Nouryon, Novus International, Olin, OXEA, OxyChem, PeroxyChem,
Praxair, Pure Salt, Sasol Chemicals, Sekisui Specialty Chemicals, Shell,
SI Group, Texas Brine, Total Petrochemicals & Refining, TPC Group,
Vencorex, Zeon Chemicals
Individual wristbands are available for Friday and Saturday nights only.
The wristbands will be available at the ACIT Hospitality Tent or you can arrange to pick them up prior to the Rodeo.
This is a member only event. If you are interested in becoming a member of ACIT, please contact Sabrina Schwertner at Schwertner@texaschemistry.org
Thank You to Base Camp Cookers for Catering our ACIT Hospitality Tent!


Monetary donations to Camp Hope will be accepted at the event.
For further information, please contact Sabrina Schwertner at Schwertner@texaschemistry.org
Add to Calendar
aCLuDhaqizCaPxAftmqF167204
09/15/2022
09/17/2022
true
ACIT HSC Hospitality Tent at the Pasadena Rodeo BBQ Cookoff
  ACIT Pasadena Rodeo Hospitality TentPasadena Livestock Show & Rodeo BBQ Cook-Off! September 15 - 17, 2022   Presenting Sponsor   SPONSOR NOW TO GET YOUR WRISTBANDS!!!  -WE WILL BE OFFERING WILL CALL AT THE TENT TO MAKE IT EASY-   LocationPasadena Convention Center7601 Red Bluff RoadPasadena, TX 77507 We will be located on the Midway in Booths 74-77Award Winning BBQ and Catering provided by Base Camp Cookers!!   We are looking for Sponsors!!!  Why do you want to Sponsor this event?? For the AMAZING  TCC networking opportunities, direct marketing reach to YOUR target audience, and access to the "Best Tent" at the Rodeo!! TCC Plant Managers will receive wristbands to our ACIT Pasadena Rodeo Hospitality Tent for our Exclusive Thursday VIP and Sponsor Night (invitation only for TCC members and ACIT Sponsors).They will also receive wristbands for Friday & Saturday to share with their leadership teams and staff.(See listing below of all the TCC companies invited to the ACIT Hospitality Tent) Sponsorship Opportunities Click on the link below for full details and benefits of each sponsorship SPONSOR HERE *Presenting Sponsor ($10,000) - VIP Passes to Mayor's Rodeo Suite, Speaking opportunity at VIP Reception, 30 VIP Passes for Thursday, 75 Passes for both Friday & Saturday, and much more! *Platinum Sponsor ($5,000) - Speaking opportunity during Friday or Saturday dinner, 15 VIP Passes for Thursday,50 Passes for both Friday & Saturday, and much more!  *Gold Sponsor ($3,500) - Opportunity for featured article in TCC/ACIT Newsletter, 10 VIP Passes for Thursday,30 Passes for both Friday and Saturday, and much more! *Silver Sponsor ($2,500) - VIP Invitation to 2023 TCC Summer Board Retreat Dinner, 6 VIP Passes for Thursday,20 Passes for both Friday and Saturday, and much more! *Bronze Sponsor ($1,000) - 3 VIP Passes for Thursday, 12 Passes for both Friday and Saturday, and much more! *Friends of ACIT ($500) - 1 VIP Pass for Thursday, 4 Passes for both Friday and Saturday, and much more!   Thank You To Our Amazing Sponsors! Presenting SponsorChevron Platinum SponsorsBIC AllianceCoastal Ice & WaterSan Jacinto CollegeTotal Tent Solutions Gold SponsorsAlliance Technical GroupHunter BuildingsPSC GroupTurner Industries Silver SponsorsBMWC ConstructorsINEOSOhmstede Industrial ServicesSpace City ServicesTIMECTolunay-Wong EngineersUSA DeBusk Bronze Sponsors3V IndustrialAlltec Lifting SystemsAmerican Road TransportationBohler EngineeringC2C Technical ServicesCivil & Environmental ConsultantsComfort Suites La PorteCORE Occupational MedicineDiamondback WorksENTRUST Solutions GroupEnterprise Commercial PavingGallant IndustrialGreat Western ValveHealth and Safety CouncilPK CompaniesPuffer-SweivenRain for RentSage Enviro TechStandard ConstructorsTexas MolecularVecta Environmental Services Friends of ACIT SponsorBearComFiretrol Protection SystemsFortress Protective BuildingsMirage Industrial GroupSteel PaintersTax Advisors Group   Schedule of Hospitality Tent September 15th - 6:00 - 11:00pm VIP and Sponsor Appreciation EveningSponsors enjoy networking with TCC Plant Managers & Company RepresentativesFollowed by live entertainment and serving award-winning fajitasSeptember 16th - Cook-Off Hospitality5:00pm - 12:00amSeptember 17th - Cook-Off Hospitality5:00pm - 12:00amEnjoy award-winning BBQ, beverages, live entertainment & networking each night!   Get Your Sponsorships and Wristbands Today! TCC Members that are invited to join us at the Hospitality Tent include the following companies: Air Liquide, Albemarle, Arkema, Ascend Performance Materials, Ashland,BASF, BP, Braskem America, Celanese, Chemours, Chevron Phillips, Covestro, Dixie Chemical, Dow, DuPont, Eastman, ECO Services Operations, Enterprise Products, Ethyl, ExxonMobil, Flint Hills Resources, GB Biosciences, Goodyear Chemical, Indorama, INEOS, INVISTA, Kaneka, Kuraray, Linde, Lubrizol, LyondellBasell Industries, Marathon Petroleum, MEGlobal Americas, Noltex, Nouryon, Novus International, Olin, OXEA, OxyChem, PeroxyChem, Praxair, Pure Salt, Sasol Chemicals, Sekisui Specialty Chemicals, Shell, SI Group, Texas Brine, Total Petrochemicals & Refining, TPC Group, Vencorex, Zeon Chemicals   Individual Registrations - $50Register for Individual Tickets Here Individual wristbands are available for Friday and Saturday nights only.The wristbands will be available at the ACIT Hospitality Tent or you can arrange to pick them up prior to the Rodeo.   This is a member only event. If you are interested in becoming a member of ACIT, please contact Sabrina Schwertner at Schwertner@texaschemistry.org   Thank You to Base Camp Cookers for Catering our ACIT Hospitality Tent! Monetary donations to Camp Hope will be accepted at the event. For further information, please contact Sabrina Schwertner at Schwertner@texaschemistry.org   
Pasadena Convention Center Fairgrounds
---